Business Cards
Looking for business cards for your company or organization? Let Win2Win be your goto service for not only designing but printing. Finding new customers is a tough call. There's all that telephone calling to be done, the mailshots to create awareness and of course the all-important networking events where you can meet a lot of potential new clients quickly and easily.
Don't let your business cards let you down at the last hurdle. We've all heard the expression 'first impressions count' and when you're out to meet lots of new prospects a dog-eared, poorly designed and printed business card does you no favors at all.
At Win2Win. we've been helping businesses start conversations for years. We offer a wide range of business cards to suit all budgets from great value through to premium cards that help you open doors. We also have a great design team to make sure your card is saying all the right things about your business.
Make sure your business card are built to impress with our wide range of stock.
---
Business card options:
Digital cards – ideal for smaller quantities
Litho printed
Wide range of stocks
Matt or gloss laminated
Spot UV
Die cut
Thermography
Embossing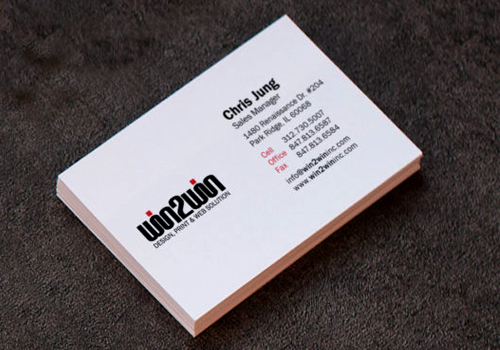 At Win2Win, we design business cards easier than ever with affordable prices that you can trust. Got questions? Give us a call at 847-813-6587 and we would love to assist your with your marketing and promotional needs in the Chicago area.
More Products